To register, Click Here!
For printable pdf flyer Click Here!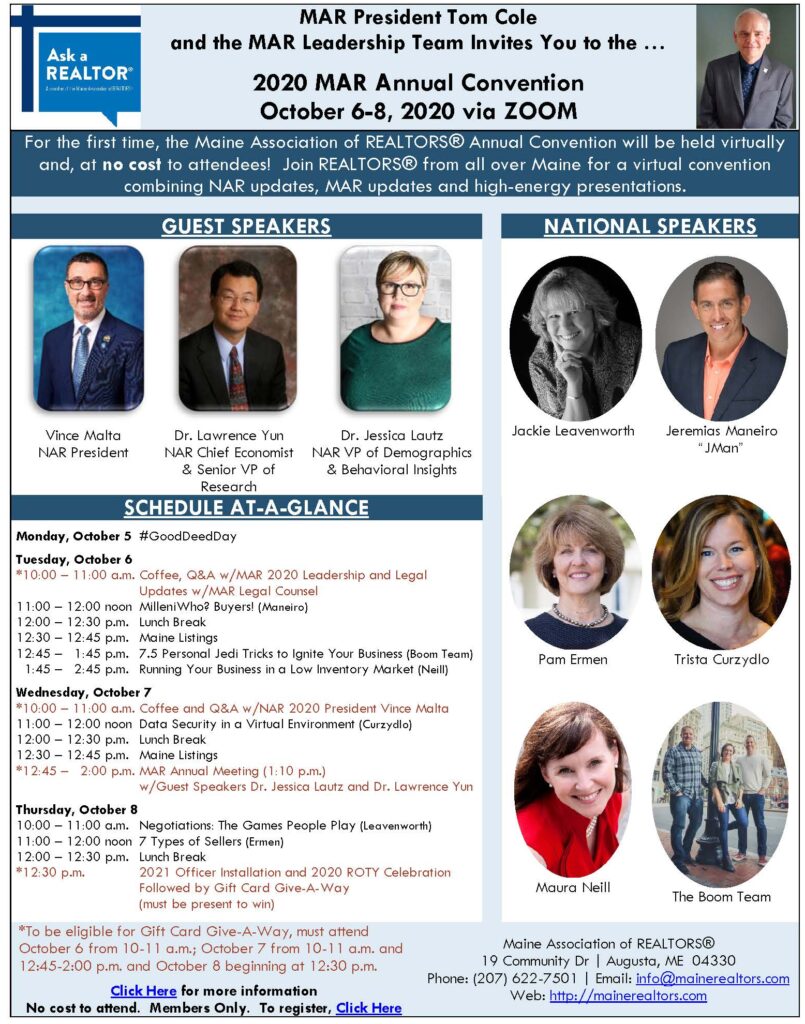 GUEST SPEAKERS
Vince Malta, a REALTOR® in San Francisco, California, is the 2020 President of the National Association of REALTORS®. Vince is a third-generation REALTOR® and the CEO and broker of Malta & Co., Inc. Vince has been in the real estate business for 43 years and has served the industry in countless roles.  Click Here to view complete bio.
Dr. Lawrence Yun is Chief Economist and Senior Vice President of Research at the NATIONAL ASSOCIATION OF REALTORS®.  He oversees and is responsible for a wide range of research activity for the association including NAR's Existing Home Sales statistics, Affordability Index, and Home Buyers and Sellers Profile Report.  He regularly provides commentary on real estate market trends for its 1.4 million REALTORS®.  Click Here to view complete bio.
Dr. Jessica Lautz is Vice President of Demographics and Behavioral Insights at the National Association of REALTORS®. The core of her research focuses on analyzing trends for both NAR members and housing consumers. Through management of surveys, focus groups and data analysis, she presents new and innovative ways to showcase results. Jessica discusses research findings in major media outlets and international presentations.  Click Here to view complete bio.
NATIONAL SPEAKERS – https://www.realestatespeakers.com/
The Boom Team is best known around the country for their creativity, innovation, fun-loving culture and consistently getting kicked out of local business establishments, Todd, Megan, and Terry believe in breaking out of the box in order to build incredible businesses—and helping other agents do the same!  Click Here to view complete bio.
Trista Curzydlo is a graduate of Washburn University and Washburn University, School of Law, where she was a member of the Washburn Law Journal. After serving as Assistant Legal Counsel to Kansas Governor Bill Graves, Trista joined the office of the District Attorney for the Eighteenth Judicial District of Kansas as an Assistant District Attorney assigned to the Consumer Fraud division.  Click Here for complete bio.
Pamela Ermen has spent her entire business career in real estate, obtaining her license at 18 years old. Her intense focus on acquiring that knowledge, combined with award winning sales production, opened doors to full time management by the age of 24. Since then, she has spent nearly 25 years coaching individual agents and teams to their highest levels of productivity.  Click Here for complete bio.
Pricing, Management, and Negotiation Strategiest Jackie Leavenworth's humorous, engaging style delivers distinct and unique strategies taken from over 30 years of award-winning success as a top producer, a manager of a large real estate brokerage and an in-demand international presenter. Click Here for complete bio.
Jeremias "JMan" Maneiro is a tech-savvy millennial who speaks from the heart and specializes in helping everyone improve their techxpertise regardless of skill level or generation. Audiences across the nation love the enthusiasm, energy, and humor he brings to every presentation.  Click Here for complete bio.
Maura Neill (ABR, CRS, e-PRO, MRP) is a second-generation REALTOR® who combines her love for the industry with her passion for education. Before getting into the real estate business in 2001, Maura previously taught at Florida State University and University of Phoenix.  Click Here for complete bio.